Louis Owen Assistant Professor of Electrical and Computer Engineering (ECE) César A. Uribe is the recipient of the Oak Ridge Associated Universities (ORAU) Ralph Powe Jr. Award.
"The competitive and prestigious Powe Award is given as public recognition for the quality and promise of research of junior faculty members. Projects must fall within the disciplines of – engineering & applied science; life sciences; mathematics/computer sciences; physical sciences; or policy, management, and education."
The award supports Uribe's proposal titled "Towards the Tropical Forest Connectome: Soundscape Ecology Network Science for Structural and Functional Understanding of Conservation States."
ECE involves the development of technologies that can be used to improve peoples' lives and humanity in its role as steward of the planet's resources. When you think about the broad scope of things that fall under the umbrella of ECE, you may not consider how engineers use their knowledge to aid in conservation planning. Uribe's partnership with researchers and conservationists in the Colombian tropical forest illustrates how engineers work with scientists to advance technologies to improve environmental stewardship. 
"My partners in Colombia have been studying environmental conservation of the tropical forest based on what is called soundscapes, which are pretty much recordings of how the tropical forest sounds," Uribe said.
"My research deals with systems and models. I work with models related to graphs and networks. I'm working to develop a way to analyze soundscapes based on modern network theory and decentralized machine learning methods. We can gain a greater understanding of the structure of the networks or connectivity between different points in the forest. This is important because connectivity serves as good indicator of the forest's health."
Uribe explains how his research in tropical forests can aid environmental and ecological conservationists build action plans. 
Biodiversity composition is a biomarker for understanding conservation states. This project is about analyzing and understanding these data from a network science perspective. The outcomes can help experts in environmental and ecological conservation design action plans for conservation
The proposal was inspired by a recent collaboration between the Rice ECE and Bioscience Departments. Uribe is working to "test the extent to which primary productivity drives food web network structure and dynamics while quantifying the mediating influences of anthropogenic disturbance." The project, led by Lydia Boudreaux, professor of biosciences, spans Africa and uses camera trap data. 
"The project in the tropical forests of Colombia is local," Uribe said. "We want to study how the presence of a hydroelectric dam affects the tropical forest next to it. In the project with Lydia in Africa, we are trying to understand how things like climate change and human factors affect a whole continent, so it is larger scale. It's not that one is easier than the other. They are just on a different scale and address different questions."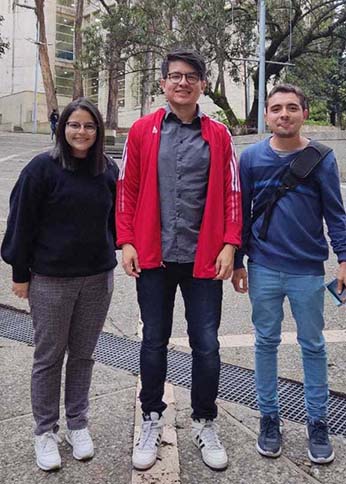 ORAU will provide $5,000 to support Uribe's research for one year. Additionally, Rice university will provide matching funds for a total of $10,000.
The funds will primarily be used to hire the students to work on the project, including Maria Jose Guerrero, an expert in bioacoustics visiting from Colombia. She will help the team understand soundscape similarities for the inference of the forest connectivity. 
"My work with Professor César consists of implementing models based on Graph Neural Network to analyze the acoustic similarity between geographical points based on the study of soundscapes, the detection of the species vocalizations (e.g., anurans, birds, bats), and their acoustic activity patterns. I am happy and grateful to have the opportunity to visit Rice to both learn from and collaborate with Professor César and his team. I believe this collaboration will help answer interesting questions related to soundscape analysis," Guerrero said. 
Uribe joined the Rice faculty in January 2021. He earned his M.S. in applied mathematics and his Ph.D. in ECE from the University of Illinois at Urbana-Champaign in 2016 and 2018, respectively. In 2013 he received an MS. in systems and control from Delft University of Technology in the Netherlands, after he earned a BS. in electronic engineering from Universidad de Antioquia in Colombia in 2010.